How Big Is Your Mountain?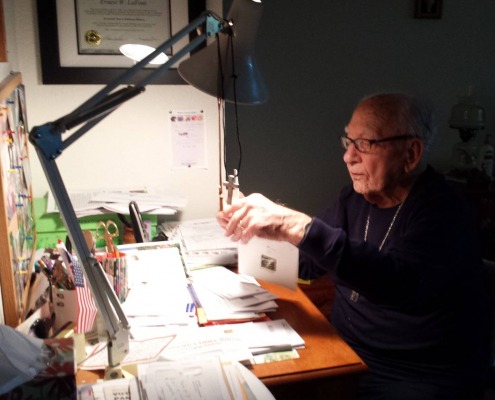 Today I called Ernest LaFont to thank him for being my model for the last 48 years. At 94 years of age I still could hear his warm, engaging giggle that brings joy even in the darkest of times. With his smiling face you might think that a man like this must have had a joy filled life. Regretfully no, he was not born with a silver spoon and he had a very challenging life from his early childhood.
His father left the family when Ernest was only 6 years old. His mother died when he was 10. When his grandmother took over parenting Ernest had to get a job to help pay the bills. He was only 10 years old he had to wake up early in the morning, bicycle to a nearby inn to wash the dishes from the night before and set the tables for the guests' breakfast. After school he headed to the grocery store where he worked evenings and weekends.
Graduating from Bible school at 19 he married his sweetheart, Grace, and worked hard so they both could go through college and then head out to serve the less fortunate of the world. As missionaries they served on four continents while experiencing many wars and regional conflicts, sickness, and life hardships. When his beloved wife developed Alzheimer's disease late in life he cared for her in their little trailer home until her death.
Ernest believed that as long as you have life, you have a purpose to fulfill. At 84 years of age, Ernest lost his job as a chaplain with the police force. Why was he discharged? He fell and broke his leg and was no longer able to go on to take downs as he used to do. Don't worry; he still has a job. At 94 he is still on staff at his church. He is responsible for visiting seniors in nursing homes and those who are sick in hospital.
What a man!! In our world there are two types of people. There are those who make a mountain out of a molehill and then there are those who use the mountain to make stepping stones to success. Ernest LaFont is one of the latter. In my books he is the most successful man I know. He has succeeded in overcoming life's hardships and is still bringing a positive impact on our world.
He had a great impact on my life I recall one time when I was angry, Ernest LaFont looked at me with firmness and a gentle smile and said something I will never forget. He said, "Remember the size of the man is measured by the size of the things that make him angry. How you respond to challenges is the best indicator of your maturity"
What do you think?
What is your response to the challenges of life? At 10 years of age Ernest LaFont faced challenges like a man. Today at 94 he still lives life like a giant.
Today or tomorrow you may face a mountain of challenges. Are you able to use it as stepping stones that will make you a better man or woman?
When you reflect on the experiences of life, good or bad, can you create from them lessons to shape a better tomorrow that will impact your world for good?
Around the globe today there are hundreds of people whose lives have been touched by Ernest LaFont. How are you touching the lives of others?
In your life you may have encountered someone like Ernest LaFont. Why not take a moment and let that person know how you appreciate his or her impact and example?